Psychedelic trance started around '98, and some pinpoint its beginning to the release of X-Dream's Radio. Along with the morph into Psytrance from Goa Trance, the number of producers and sub-genres simply exploded, and huge amounts of psy are released every year. While there is a lot of good psytrance out there, it gets lost among the mediocre releases the reason being that many producers traded quality for appeal, using cliched sounds and formulas to get more mainstream appeal. Hopefully this list will help you find some of that good stuff.
Psychedelic Trance (Psytrance or just Psy for short) is Goa Trance's successor. It is more techish and mechanical, and its most prominent element is the bassline, which is a series of repeated bass notes going "RRRR" that impart a real drive to the track. My favourite description of Psy trance is "spiritual underground, 140+bpm uptempo climaxes, strongintelligentalien, sharprobotsapiens, huge old future, full-on-all-in-one, colourful brain activity inducing" taken from here.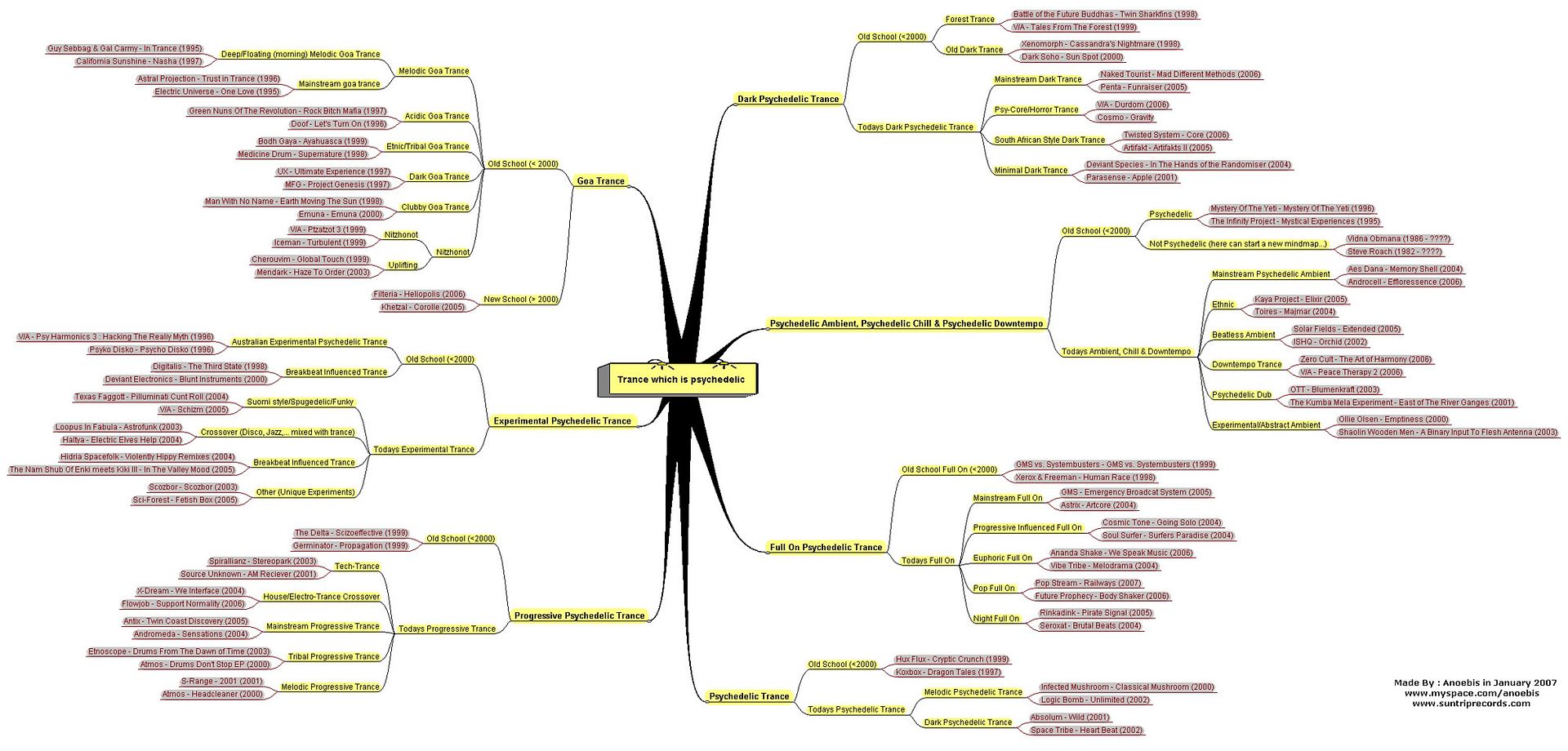 Psytrance is meant to be heard at parties. Here are some places you can get party info.
Isratrance Party Listings – all world
Isratrance Festival Listings – all world
Psynews Party/Festival Listings – all world
Ektoplazm Event Listings – mostly focused on the States and Canada
Goatrance.de – focused on Germany for the large part
Psyevents – Parties in and around Austria
OzTrance & Australiens – Australia
Psytribe and Psycircle – California
I've heard a lot but not nearly enough psy, which is why it's called "Best Psy I've Heard". A lot of exploring needs to be done, particularly the minimal/tech & Suomi side, so some sub-genres are under-represented in this list. And I don't take to progressive psy because it just doesn't sound psychedelic enough! If you have recommendations feel free to post them.
Albums
Tracks
1200 Micrograms – Garden of Eden (Full-On)
A-Mush – Jigsaw is Dead (Twilight)
Acidrockers – Inside (Psybreaks)
DnB from the comp Freekstyle which is essentially a Psy Breaks/DnB comp.
Artax – Castle of the 8 Blessed Bits (Melodic)
Atma – Moments of Truth (Full-On)
Auricular – Pilzvergiftung (Dark)
Chromatone – Merciful Error


The rest of the Chroma Connection is also solid full-on if you like that stuff.

Cosma – Simplicity


Many people simply love his 2 albums, but I didn't see that much in them. There are definitely some good tracks though. Sadly, Cosma passed away in a motorcycle accident before his second album was released =\

Crazy Ducks – Bulka
Cosmosis – Samba Del Gringo (Samba Psy? :p)
Cosmosis – The Eternal Now (Full-On)
Crazy Astronaut – F Killer (Full-On)


It has the speed of a dark track, but its sounds very full-on…quite interesting.

Dark Soho – Suckobus (Dark)
Dark Soho – Noise 6 (Psytechno)
Dark Nebula – Carbon (Full-On)
Darshan – Speed Freak


Initially I liked this because of that acid part in the middle, then on repeated listens I thought the rest of the track was pretty deep, it sort of grew on me.

Dejavu Project – Zen (Live Version) (Dark)
The sparse, unearthly atmosphere and the slow, crafted build makes this track quite intriguing. Found on VA – Zen
Double Dragon – Hairy Liquid (Experimental/Downtempo)
Double Dragon – Encrusted Filth (Experimental/Downtempo)
If you like things to be on the downtempo/experimental/progressive side try out the rest of the Continuum album
Electrypnose – Lunatic Yowie (Dark Prog)
Encephalopaticys – Foksi's Insomnia
ESP – Pozitronic Brain
Ekoplex – Mount At-Ak (Full On)
Four Carry Nuts – Red Shift
Front Line Assembly – Evil Playground (Chainsaw Mix)


Remix by Tim Schuldt in his inimitable hard, dark style

Frozen Ghost – Control Freak (Twilight)
Hypersonic – Beginning Of A Story (Morfix Remix) (Full-On)


This track oozes innocence. It's just pure happiness. I had it on repeat for days.

Infected Mushroom & GMS – Arabian Nights on Mescaline
Lenz & Peace-Ka – Only Noise (Twilight)
Mandalavandalz – Irina
Midi Miliz – Dos Canones
Midi Miliz – The Invisible Witness
Midi Miliz – Treble Rebel
Midi Miliz – Speaker Sneaker
Misted Muppet – Machine Forest
Misted Muppet – Innocence
Mutant Star – Rio Grande Blood (Twilight/Forest)
Nystagmus – Tommy Is Dead


From the Immaculate Perception album, which I found to be rather patchy. Frequently, the track is doing great, and then in comes a guitar at the most inopportune moment =(

Outer Signal – The Human Mind (Twilight)


This track has been included not because its very psychedelic, or is artistically brilliant, but because it works so well on the floor.

Pitch Hikers – Mud & Guts (Full-On)
Pitch Hikers – Twilight Zone (Twilight)
Planum – Elaborate
Prometheus – Arcadia Magik (Full-On)
Psykovsky – Lastbus Madrus (Night)
Rinkadink – Cabbage Al La Tetradink (Dark)
Rinkadink – Stampede (Dark)
Sine Die – Life Hack
Shift – Kapitol (Dark Full-on)


This track has some beautiful dark pads

Solar Spectrum – Vibrations (Braincell Remix) (Full-On)
Space Tribe vs Electric Universe – The Acid Test 2006 (Full-On)

This is not the original, but the remix released on Electric Space Phenomenon.

StiTch meets Lullaby & Goodnight – Banya!!! Something On The Dancefloor (Dark)


I added this because of what I thought was the inventive use of a classical lead over darkpsy beats, which starts about midway through the track. Can be found on Twisted Minds from Hell Vol. 5

Talamasca – The Simulation (Full On)


Beautiful Goa melodies over a full bassline

Talamasca – Joint O Clock (Psybient)
Texas Faggott – Narkpsy (Suomi)
X-Dream – The 1st


Awesome track, the perfect Terminator soundtrack. An amazing atmosphere with some good synth work and perfectly distorted cyborg vocals.

V-Storm – Yoshi Master (Full-On)
V-Storm vs Eskimo vs 220V – This Drugs (Full-On)


I think these tracks are unreleased, as they're not on Discogs. They're both a 100% energy boost :)

Void – Junky
Time for some fun, humourous takes on KILLA URNSLD ESKIMO SKZI IM FULL ON if you know what I mean.
http://www.myspace.com/babasystem
http://www.myspace.com/daggiandthesnarerolls
If you liked this list, you might also be interested in my Goa Trance list.